Audiobook Production Services
Engage your audience in ways that could transform your author experience and shape your success. Audiobooks are listened to by millions of book readers because of how convenient they are. You can top the to-be-read list of your potential readers by giving them many options to read your book by producing an audiobook.
We let you decide how you want to collaborate with us. You can either use your own voice if you think that will help you connect more with your readers or let our audio production company use their voice talent to narrate your stories beautifully.
Professional Audiobook Services for All Genres
KBook Publishing partners with authors and publishers to provide audiobook production services for all genres, including comedy, fiction, nonfiction, and more. Our goal is to help make your stories come alive through voice talent.
As an audiobook publisher, we offer a one-stop shop for producing audiobooks. We work in partnership with the author or publisher to produce the story exactly as envisioned by the author and then deliver the completed audiobook files to Audible, Amazon, and iTunes.
Our team of professional voice actors and audio engineers will work with you to produce a truly exceptional piece of audio entertainment.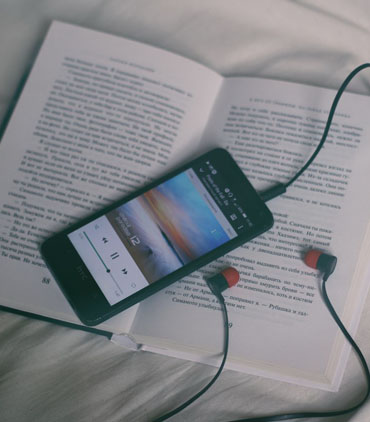 Want to Transform Your Book into an Audiobook?
The audiobook industry is experiencing a boom lately because audiobooks have transformed how books are read. Audiobooks are great for many reasons, but what makes them really stand out is the accessibility they offer. A good audiobook can be listened to by anyone, providing hours of entertainment and information.
Our top-notch audiobook narration service will help shape your author journey and make it more successful by providing your readers with a great option to access your book. Your audio book will be recorded by our experienced staff who will do justice to the theme of your story and make sure your book is narrated perfectly to your readers.
Frequently Asked Questions
Why should you record an audio book?
Audiobooks have become the most popular format for people who want to read but do not have the time. They can be listened to when you commute to work, exercise, and even cook.
Audiobooks allow people who have difficulty reading because they are visually impaired or language learners to use their time in the car or at home in the most efficient way possible. They can also be used by people wishing to learn new skills or those wanting to take a break from reading. Hence, you can benefit substantially from selling audiobooks which will increase your chances of success.
How much does it cost to produce an audiobook?
The cost of an audiobook production depends on the voice talent, editing costs, production time, and type of audiobook. Our audiobook narrators and producers charge a minimum of $200 per finished hour so the total cost can be around $1000-$2000 for a book that is no longer than 300 pages. If you choose to edit your book, that will be charged separately.
Can I use my own voice to record by book?
Yes, you can. We let authors choose the type of audiobook package they like which includes either narration by our voice-over artists or narration with your own voice. When you choose to narrate your book, we handle the rest, including mixing, mastering, production, and technical changes.
Can I earn more by selling audiobooks?
Yes. You can definitely earn more by selling audiobooks in addition to your print books. Audiobooks are the perfect companion for your book. They can help you build a new income stream. Books can be read faster when you listen. If you are busy, you will have more time to read by listening to audiobooks.
Mastering the Art of Storytelling with Apt Voice Over Talent
Audiobook narration and production is a complicated process that involves recording, editing, mixing, and narration. A lot of mystery surrounds the audiobook industry but it is actually quite simple: to produce an audiobook you just need the right equipment, qualified people, and the right workflow management system. At KBook, we have all three factors covered.
Our production process includes:
Professional recording studio with state-of-the-art equipment for recording narrations and sound effects. We can also set up recording sessions in your location if needed.
Thorough editing process from start to finish or just provide you with an edited file of audio books in case you would like us to do it on your own.