Book Trailer Production Services
Tired of thinking of ways to promote your book and get the news across? Ever thought of creating a video that drives attention to your book even before it's released? KBook has got you covered!
Creating videos and writing scripts can be a lengthy process so KBook makes sure you don't have to invest in this and instead focus on promoting your book through other facets. Our expert publishers and marketers make sure your story is heard and the readers are hooked by the message your book contains.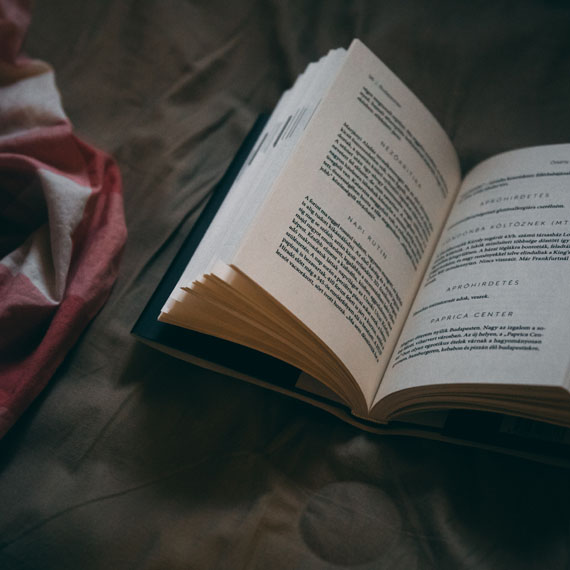 Cinematic Book Trailers to Hook Your Potential Readers
Remember we have to get the point of your video across in 30 seconds to a few minutes. This means you'll need a good script and some solid editing skills. KBook has expert video editors, scriptwriters, and graphic designers that create stunning visuals and effective messaging that hooks the viewers and make them curious about reading your book. We grab their attention with an interesting opening line and keep them interested with captivating visuals.
We also use high-quality material when creating your book trailers. Using HD video and/or images of your books, we make these a part of your book trailers and shoot them using professional camera gear. Clear, high-quality images and sound will make your video look more professional overall. We consider adding music and sound effects to your videos as well.
We Create Video Book Trailers as Per Your Book's Genre
Book trailers are like cliffhangers in video form! They create suspense, intrigue and keep your audience wanting more. If you haven't created one yet for your upcoming release, then you might want to consider hiring a professional book trailer creator.
Good thing we have this covered! We create book trailers according to your book genre. KBook makes it easy for authors to promote their books right and make the best of their publishing journeys. No matter you have written a fiction or nonfiction book, your book deserves all the praise and attention to be a leading name in a short span of time.
Frequently Asked Questions
What is a book trailer?
A book trailer, also known as a video trailer, is a short movie that you can use to promote your book. They are made using videos and images from your book. An author trailer might look like a movie trailer or an advertisement for the book. But unlike a movie, a book trailer is a short video that usually lasts only one to two minutes that is uploaded on video streaming platforms like Youtube.
Book trailers are created to attract attention. You can use a book trailer to introduce readers to the idea of your book before it's published, so they will be eager to buy it when you launch it. You can also use it after the release of your book to get more sales and improve your book's ranking on online stores like Amazon, Apple Books, and Kobo.
What does a book video trailer do?
Book trailers are used to raise awareness and credibility, encourage sales and build anticipation before the release of your book, or even be used as a lead generation tool to attract new readers who aren't familiar with your work. A good book trailer will do several things:
It will let the reader know that there is a book out there that they need to read.
It will give them a tease of what's in the book.
It will tell them how easy it is for them to find the book.
It should also sell the book and grab reviews!
How long should a book trailer be?
A book trailer is a short video advertisement for a book. A book trailer is often posted on the author website, YouTube, or Facebook and is typically about 1-3 minutes long. But to convey the point effectively, your cinematic trailers should be concise and clear script and visually appealing video graphics to grab the attention of your viewers. So try to create trailers that are short and effectual.
How much does a book trailer cost?
Book trailer services can cost anywhere from $200 to $500. The price depends on the service you choose and how in-depth you want the trailer to be.
When you hire a book trailer websites services, you will want to ask them how much they charge. You can also look online for reviews to get an idea of what other people think about their pricing and the quality of work. Make sure you know what you are paying for and that the video matches your expectations and includes all the necessary elements in the said pricing.
Will you promote my book as well?
Yes, we do. Our publishing services also include marketing, promotion, and PR of your book as separate services but we make sure your videos are promoted on maximum platforms through organic ranking and paid advertising. If you desire to benefit from other promotion and marketing services, you can get a free quote and discuss your requirements for the project.
KBook Helps Market and Promote Your Book
Are you a self-published author looking for ways to promote and market your book? Are you tired of making mistakes when it comes to publishing your book on Amazon? Tired of not selling books as much as you'd like? Then, perhaps, it is time to consider getting help from services that specialize in helping self-published authors.
Book trailer services are one such service, popular among many writers and avid readers. Book trailers help you promote and market your book by going the extra mile. They are not just promotional videos but short videos that are usually 2-5 minutes in length that can be found on YouTube or on the websites of their creators. We know how important it is to have a great web presence. We provide a variety of affordable video services starting at affordable rates. We also specialize in helping authors and publishers promote and market their books. Video book trailers, promotional videos, streamable videos, and more! We are your one-stop-shop for all your video trailer needs.