Are you fascinated by marvel comics and want something similar for your comic books? We bring creative and explorative comic book illustrators on board who have a deep understanding of the elements needed to create stunning comic art.
Your search for a comic book artist ends here because we have a strong team of creative illustrators who are hired for their expertise and professionalism to serve our authors throughout their publishing journey.
Superhero Comics and Graphic Novels Under One Roof
Our team of comic book illustrators works with you to create your book illustrations. Our illustrators work on every aspect of your comic book, from the writing and storyboards to the panel layouts and character designs. We have a team of comic book illustrators who can help you create the comic illustrations you've always wanted. We can create 2D, 3D, and 4D art that will bring your story to life.
Whether it's a superhero comic or graphic novel, we love working with our clients to make their vision come to life in the form of comic illustrations. Over the years, we have worked on an extensive variety of comic book illustration work. We have made a name for ourselves in the comic book industry by delivering the finest quality comic illustrations and we are one of the most reputed comic book illustration companies in the publishing industry.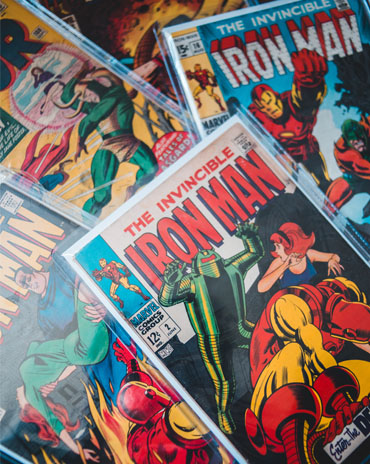 We Enhance Your Storytelling Through Creative Comic Art
Whether it's Japanese comics, DC comics, or wonder woman comic art, we understand what it takes to craft visual characters that help connect with your readers. From fantasy fiction and thriller to horror and noir, we enhance your storytelling and expression by focusing on vector art, typography, colors, framing, and hand lettering to accurately convey the theme of your story.
We have a team of well-trained illustrators who work tirelessly to deliver top-notch comic illustrations to our clients. Our illustrators are masters in their own style and everyone has their own unique style of working.
Frequently Asked Questions
What is comic book illustration?
Comic book illustration is the process of visualizing and drawing comics. It's the art of storytelling through sequential art, which is a visual medium of communication. Comic books are published in various formats, such as traditional print comics or online.
The comic book illustrator is the person who creates the images for the story and interprets them to make it come alive. They draw pictures and add colors using pens, pencils, markers, and other media. They also collaborate with writers to execute ideas that enhance the overall story and make it more entertaining for the readers.
How long do you take to do comic book art?
After submitting your requirements to get the price quote, our account manager gets in touch with you shortly to discuss what exactly you need. Within 24 hours, we connect you with a comic book illustrator based on your preference and genre who starts working on your project soon after the interview. It can take a minimum of 3-4 weeks to design comics but it highly depends on the number of illustrations, pages, and length of your comic book. We recommend you notify us beforehand if you have any strict deadlines from your publisher.
Can you also design my comic book cover?
Yes, we can. KBook also offers book cover design services for authors to help their books stand out among others. Though there's no hard and fast rule of getting illustrations before cover design, we suggest you get the cover design service after your whole book is completed.
I want my comic book illustrations redesigned. Can you help?
Absolutely. Our comic illustrators not only create art from scratch but also redesign previously made sketches, whether black and white or colored. Simply send us your requirements for the changes and how exactly you want your comic book designed that best conveys your story.
I am a big fan of DC comics, and I wanted my book to have similar illustrations. So I started looking for an illustrator who could help me out with this. Then I came across KBook and their impressive portfolio on their site. This made me open up to them and after having a couple of rounds of communication, they were ready to work on my project. They created stunning comic art which made my book look professional. They even customized my character sketches according to my needs.
My book is about a journey from success to the failure of a businessman. I wanted my story to be illustrated in comic art style because I felt it will give the feeling that if you make one mistake there are many things that you had to sacrifice. The illustrators at KBook did an excellent job of bringing my vision to life. I loved the way they used black and white colors in my book. The comic art style just made my book more appealing to readers. I'm thankful to KBook for making this possible.
If you're looking to get your comic book illustrated and published, then KBook is the best option for you. They have very affordable rates and their illustrators are highly talented. The team at KBook is very friendly and highly efficient. I'm a very satisfied customer of theirs. Thanks to KBook, my comic book has been a huge success.
Our Illustrators are Skilled at Designing Comic Books
Comic book illustration is the artwork that goes into comic books. It has its own artistic value, but it also plays an important role in storytelling. Our comic book illustrators create images that will convey details as small as the eye color or as big as the whole character to the reader in an understandable manner. The different visual tools used by the illustrator are meant to show action, tell a story, and give a sense of mood. We design illustrations based on the following elements:
Color – Based on different moods or actions in a scene, we use bright or dark colors to represent happiness, joy, danger, or evil.
Expressions – Facial expressions can depict different emotions. Our comic book illustrators use close-ups to capture these expressions of characters more accurately.
Perspective – This includes using 3D or 2D effects as well as camera angles and character viewpoints.
Backgrounds – We work on the background as a setting for your story; our illustrators plan the designs and illustrations depending on the background.